Remodelling Your Kitchen? All You Need To Know About Designs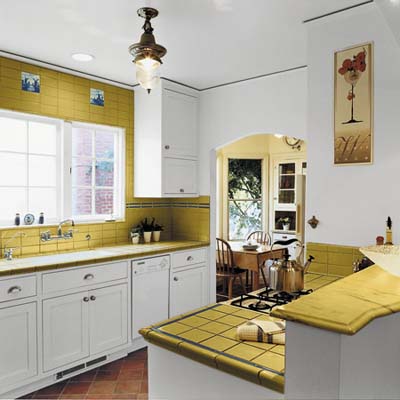 Gone are the days when the kitchen was a dingy room tacked away at the back of the house. Kitchens have stepped into the limelight and are at centre stage in modern homes. With a variety of exciting designs to choose from, which includes French country to New York loft cheek, you can be as creative as you like with your new kitchen. In this article we will be looking at some different designs and great ideas for kitchens.
Country-style kitchen
If you like the cosy feeling of country style living then this type of design is for you. With solid wood tops, white or blue washed cabinet doors. Freestanding gas cookers with canopy extractors all lend to the country feel, and using a painted tiles on the certain areas of the walls bring this look together. If you have the space then a kitchen island in a granite completes this look.
Funky contemporary kitchens
In this type of kitchen the focus is on the linear lines and using contemporary colours on the tiles or cabinets to brighten up the kitchen. Clean lines give the modern feel with concrete surface tops and stainless steel appliances. Splashes of colour can be added in the flooring or cabinets.
Ultra modern kitchen
When trying to envision an ultra modern kitchen think sleek minimalistic look, clean lines, uncluttered surfaces, aluminium and steel fittings, stainless steel appliances, stone or steel tops and sandblasted glass doors on cabinets. Colours are kept neutral in shades of cream, white, sand, black or grey. High gloss tiles reflect the cheek light fittings making this kitchen seem like one of those designer kitchens seen in show rooms.
These are just three of the many designs in kitchens and one can literally spend hours looking around at all the designs in a showroom or on the various design websites. But sometimes the task of choosing a kitchen style from amongst the many different designs can be daunting. Always take your time and come up with solutions for your available space and layout of your kitchen as good layout is key when designing your kitchen space. Here are two key elements that can instantly change the look of your entire kitchen yet are often overlooked.
The proper light fittings in your kitchen can make a huge difference and give an instant facelift to a kitchen. Step away from the florescent lighting and choose from some of many down lighting and spot lights.
Flooring is another key element in a kitchen that is often overlooked. The type of material used, the colour and the texture can make a huge difference in the overall feel of the kitchen so take your time when considering which one to choose and buy some samples to take home and try on your kitchen floor. This goes for the tiles on your kitchen wall too, high gloss big tiles make spaces modern whilst hand painted tiles can be used to get the country effect.
Let your kitchen take centre stage in your home and let your imagination and creativity run wild!
by Verne Eliasov